Christian Education
Christian Education at Bethany Baptist Church - Newark is holistic. We seek to strengthen individuals both spiritually and intellectually through Bible studies, Sunday School for youth and adults, our Wednesday evening Refuge service for young people, and, of course, the Word of God preached on Sunday mornings. Expect an education that connects theology with the human experience--especially the Black experience. We seek to make our faith relevant to our daily life.
Sunday School
The mission of Sunday School is to recruit, equip, and deploy the members and prospective members of a "Christ-Centered" church for service. Through teaching Christian education, Sunday School encourages and supports for each student the complete surrendering of self to a lifelong, vibrant commitment to service as a follower of Jesus Christ.
The Sunday School will:
1. Seek to recruit and prepare well-trained student-centered Christian educators from all age groups to energize the membership.
2. Help to equip the membership to carry out the Great Commission to the children, youth, and adults by supporting and grounding the deeper relationship with Jesus Christ through lifelong learning in our current changing society (e.g. Bible study, retreats, forums, role play, enhanced technology and interactive learning curriculum, i.e. Web-based, and field trips).
3. Help to deploy the word of God for fostering faith in practical situations at home, at school, and in the community with the development of new tools (e.g. creating Bible-based tool kits, such as Facebook/blogs/brochures, etc.) to assist students with everyday life questions of "choice" and "freedom" and prepare students for community outreach: living out the gospel in a real way.
Bethany Bible Institute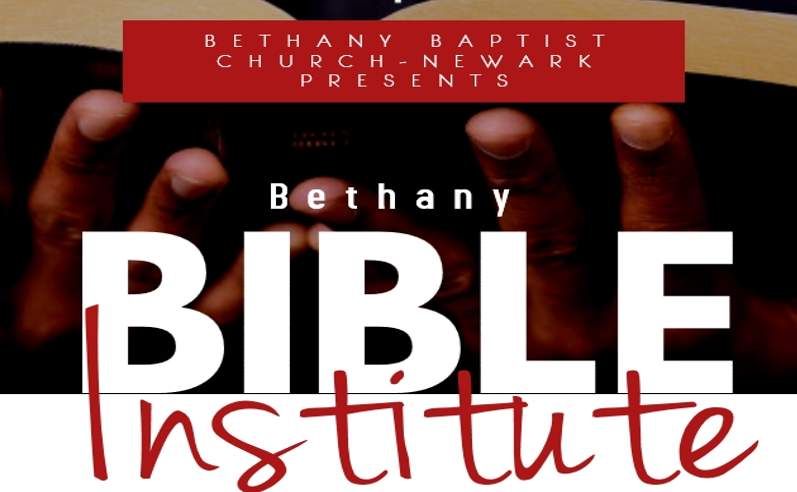 Bethany Bible Institute is the weekly bible study at Bethany Baptist Church - Newark. Sessions meet on Wednesday evenings at 7:00 pm and on Saturday mornings at 10:00 am. Past topics have included Women in the Bible, A Survey of the Old Testament, and The Gospel According to the Wire. Join us during the season of Eastertide as we read through Joshua and Acts, taking a look at the formation of the early Israelite community and the early church.
To access the Our Daily Bread devotions, please click here: https://odb.org/US/2021/03/01/never-give-up-3
To view today's devotional, select the date from the dropdown menu near the top of the page.